Quest for the "Can you trust this man" ad continues. @INCIndia's 1984 campaign -"Why should you feel uncomfortable riding in a taxi driven by a taxi driver who belongs to another state?" In 1984 in North Indian cities, many Sikhs were taxi drivers. Snide jab at the community...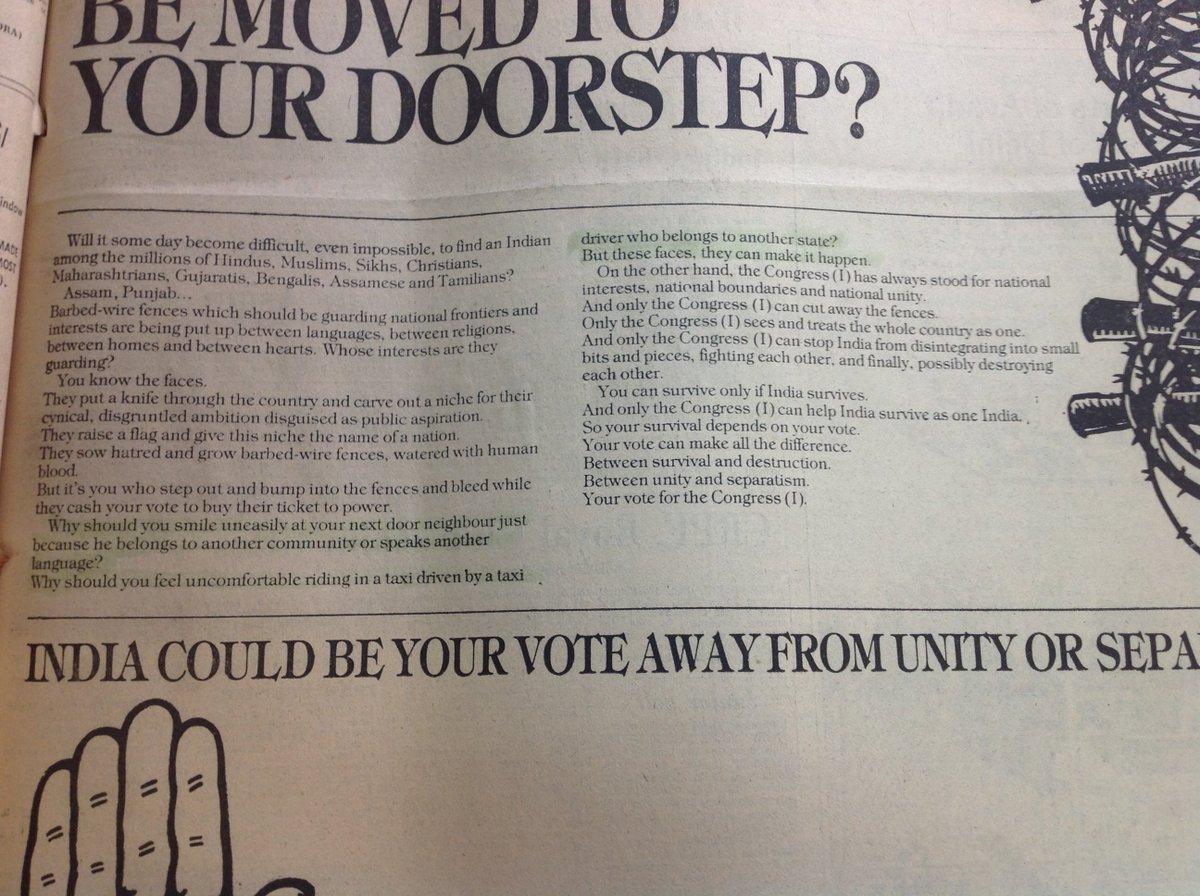 ---
Moving on to the 1989 election campaign. Owaisi Sr's dad Sultan Salahuddin Owaisi from the Hyderabad constituency. He says "only crusader, champion and saviour of historical traditions, rights" The ad also says "Yeh shaher hamara, mayor hamara" No subterfuge. Just direct message.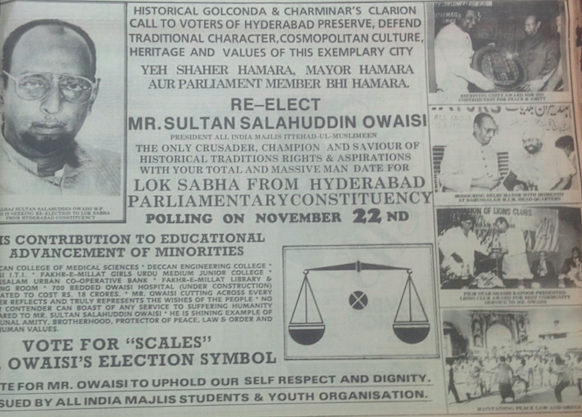 ---
In the heat of the campaign, Renuka Chowdhary (where is she these days?), then in TDP, punched a policeman and when she was accused, she retorted "Is it not an insult to me, that the man whom I punched is still surviving".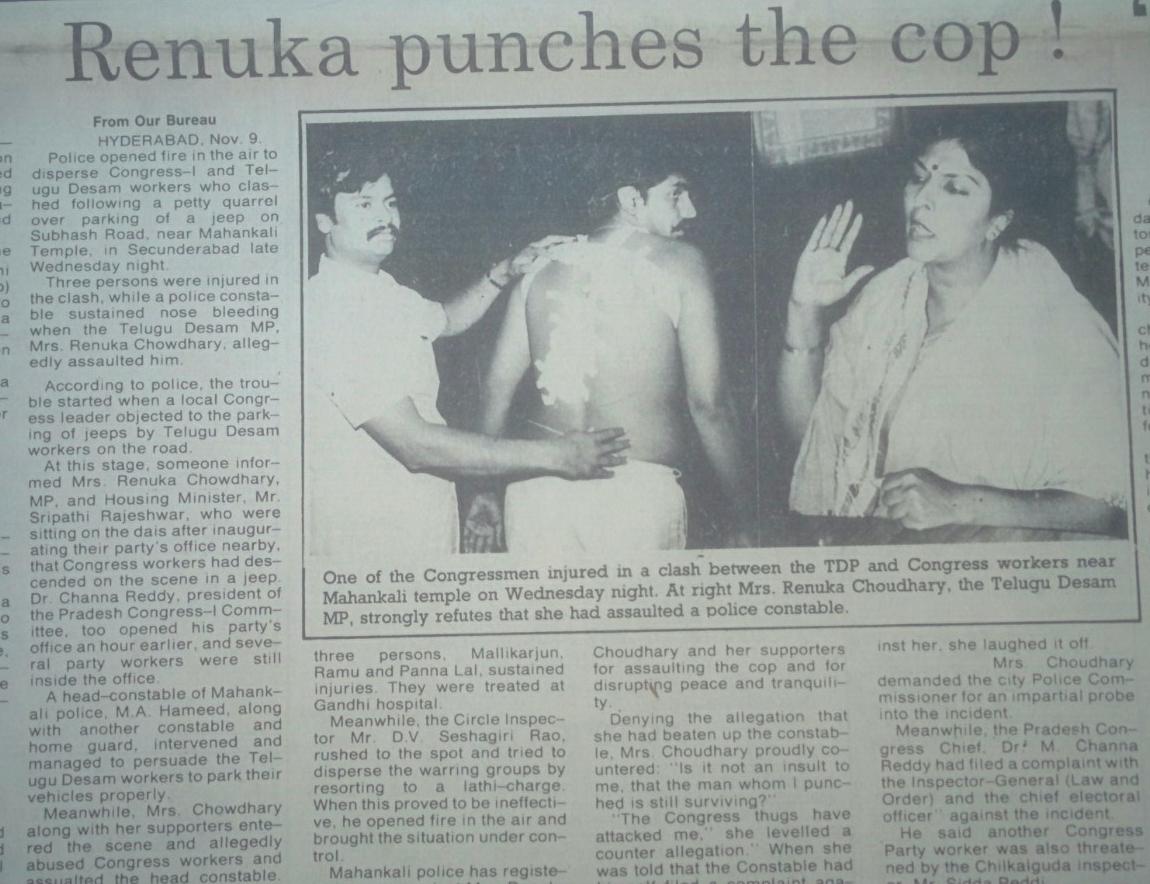 ---
And Shotgun in 1989 was still trying to get his feet wet in politics. While taking those baby steps, he says, "I want to be a watchdog in politics". Ha ha ha ha... quite a watchdog the man has been in the recent past.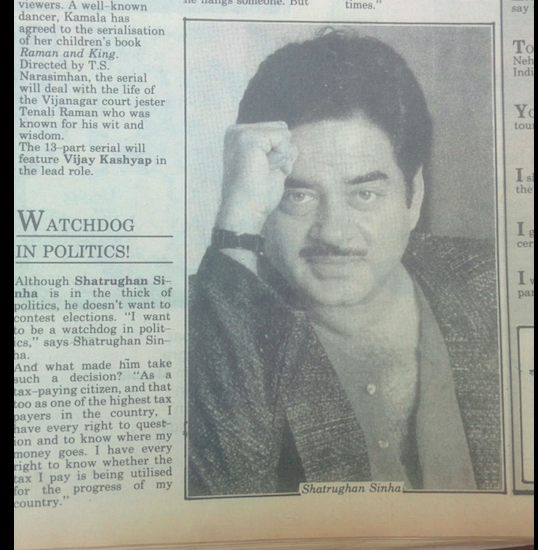 ---
Meanwhile it was the 100th anniversary of Nehru. PSUs, banks, govt departments, post and telegraph ... all of them had to pay their obeisance to the man who discovered India. How? By splurging on big ads in the newspapers during the election time. Well played @INCIndia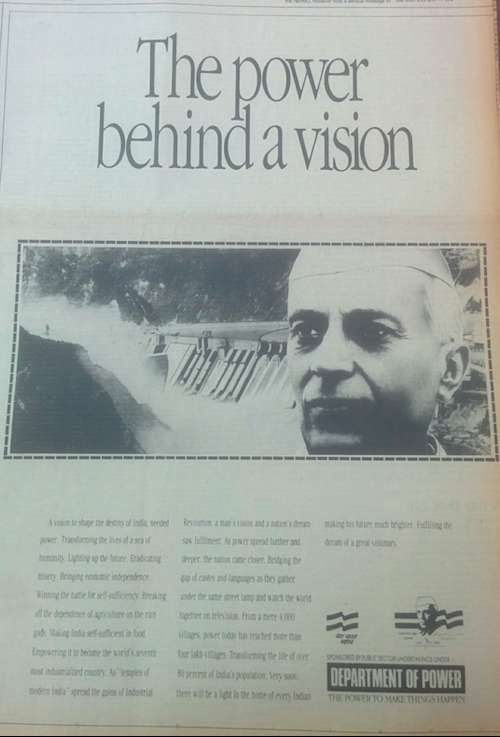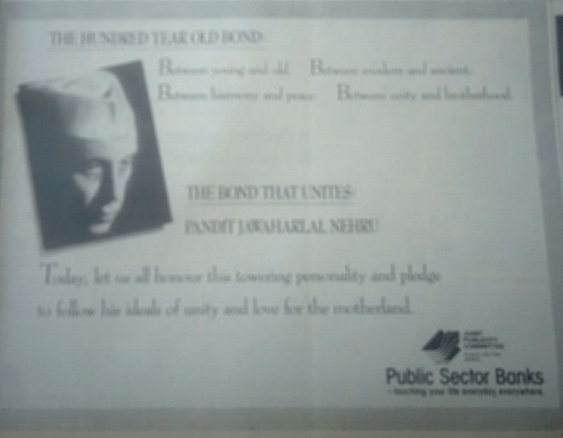 ---
The RJB movement was just starting. Ayodhya has been an issue in 9 general elections campaigns. VHP had announced the foundation for the temple - Shilanyas. Bricks were collected from all over the nation. The sarsanghchalak Shri Deoras calls it reestablishment of national pride.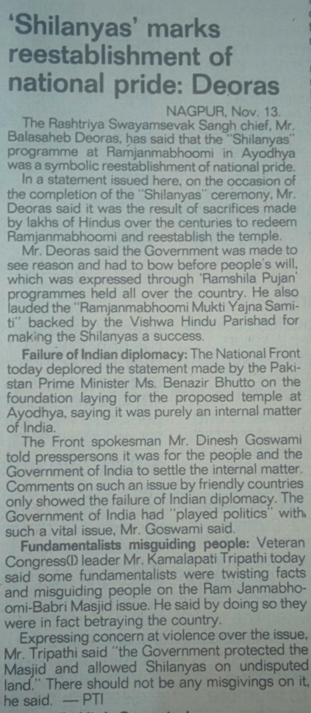 ---
OIC countries start whimpering. Pak, even Bangladesh, Saudi Barbaria, Iran all register their protest. It is important for the nation to be strong to disregard this as they have no business to poke their noses in our sovereign affairs.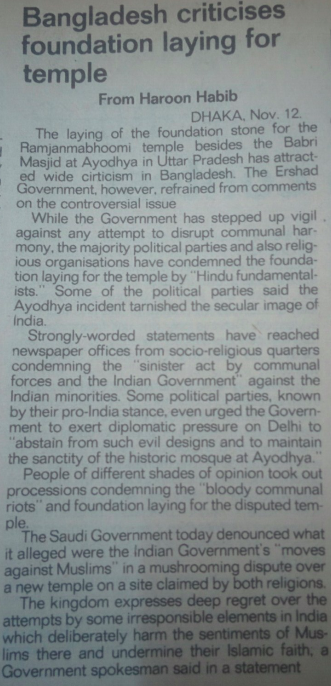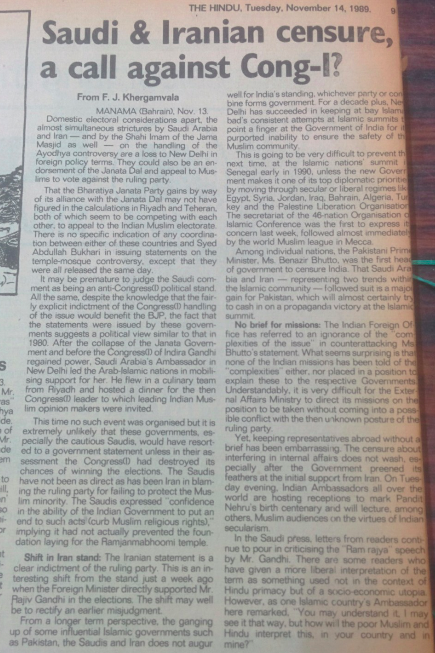 ---
And what was the Cong govt reaction during the election campaign? It flies its ambassador to Barbaria to explain the OIC about the Shilanyas, instead of calling out their interference.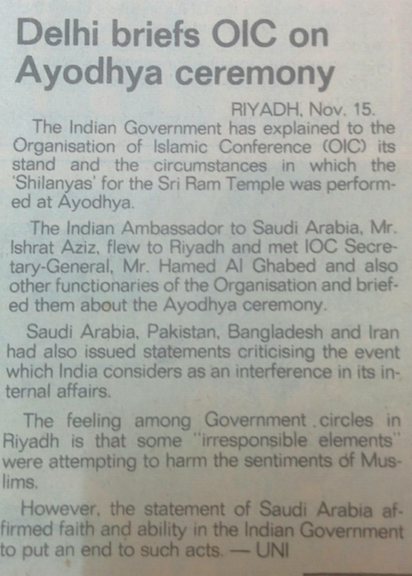 ---
Compare and contrast this with the reaction of ABV to this interference. He demanded the govt to summon the diplomats of these countries and tick them off for interfering in our internal affairs.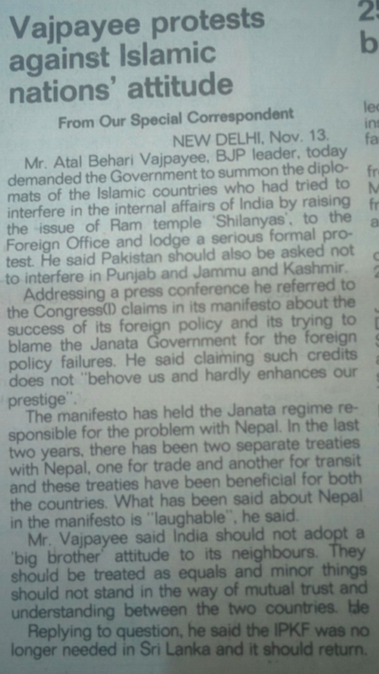 ---
Not to be left behind, TDP joins the race of having 'religious symbols' by having huge 40 feet cutouts of NTR in Hyderabad (and even Delhi) dressed as Sri Krishna. The EC tells the party to remove them.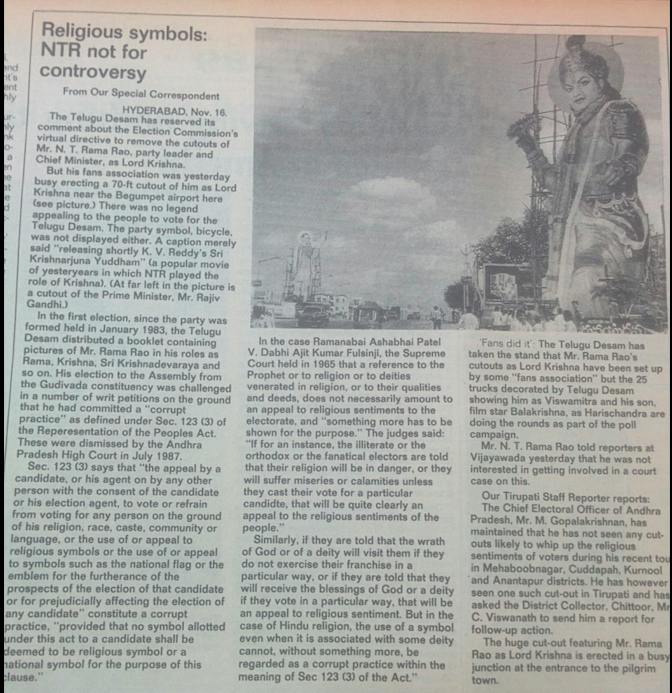 ---
With its back against the wall due to the Bofors scam, @INCIndia triggers off a series of dark ads as a part of its campaign. Talks about everything except integrity in public life. "Give India a hand" it says. Yep, after giving India a sleight of hand in Bofors procurement.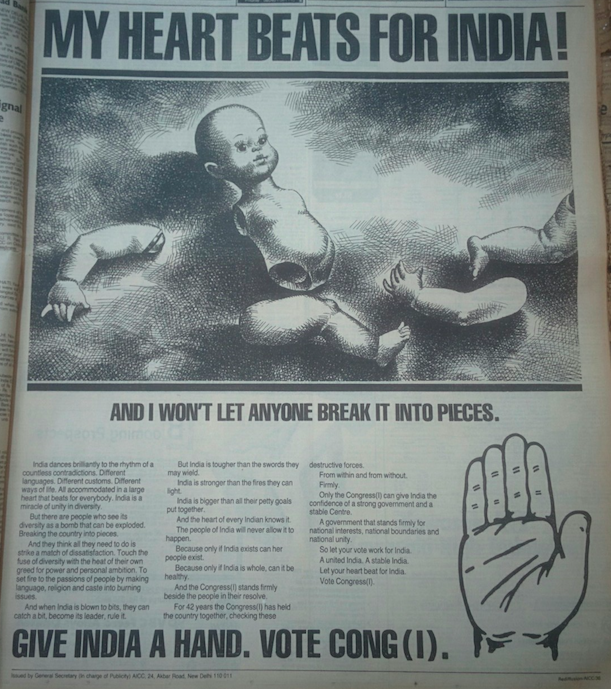 ---
Cong senses it has a losing hand on the Ayodhya issue. But it has to pander to its votebanks. Tries subtle messaging, "Cong has unlocked more doors it says", a freudian slip? Probably referring to the act of Rajiv in opening the temple lock in 1986 and allowing religious rites.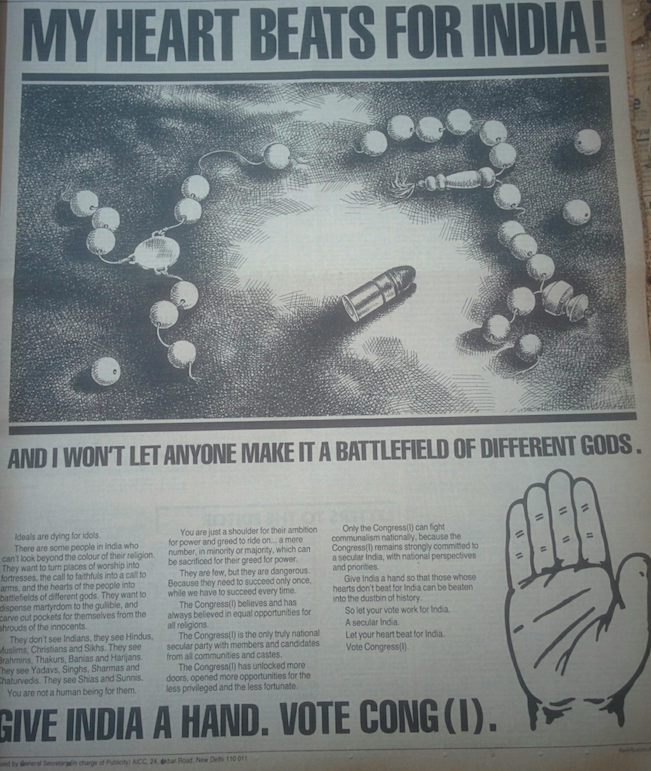 ---
LOL ... this is quite a running joke these days. Those hoary days Cong thunders. Calls Janata Dal as Jagadha Dal, and says each of the leader in JD wants to become a PM. #MahaGathbandhan obviously is different and driven by camaraderie and zero ambition. What say @INCIndia?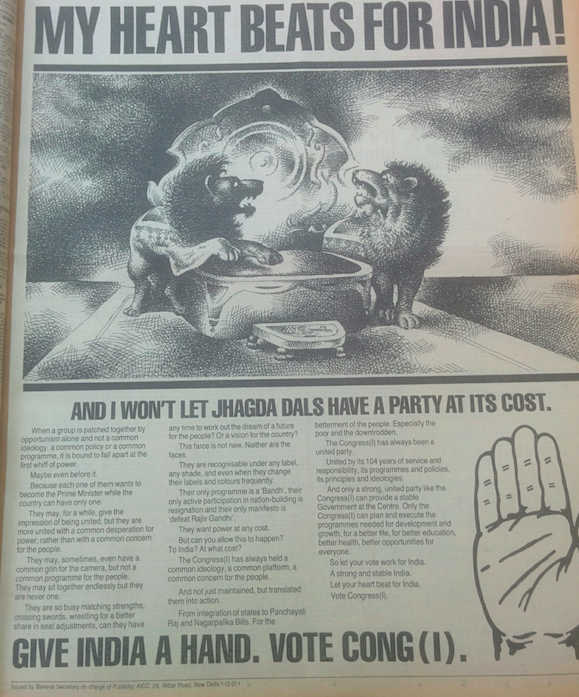 ---
@INCIndia thunders, "The future of all us of cannot be pawned for the PM chair". Yeah, NYAY, first right to minorities, CVB and all are not pawning the future of the people to make a person whose capabilities are totally suspect, as the PM.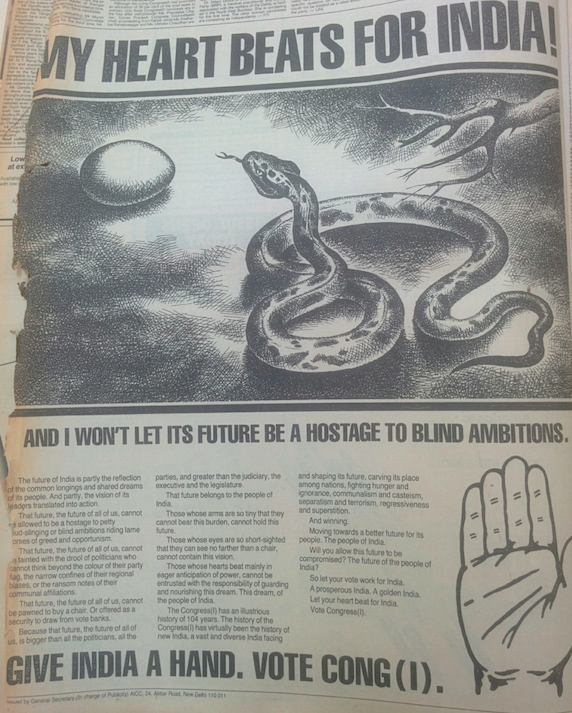 ---
And @INCIndia has a grandiose scheme of having 1 elected rep for every 500-1000 people. Dear Cong, you have ruled for at least 10 uninterrupted years after this election promise. What is your scorecard on this front?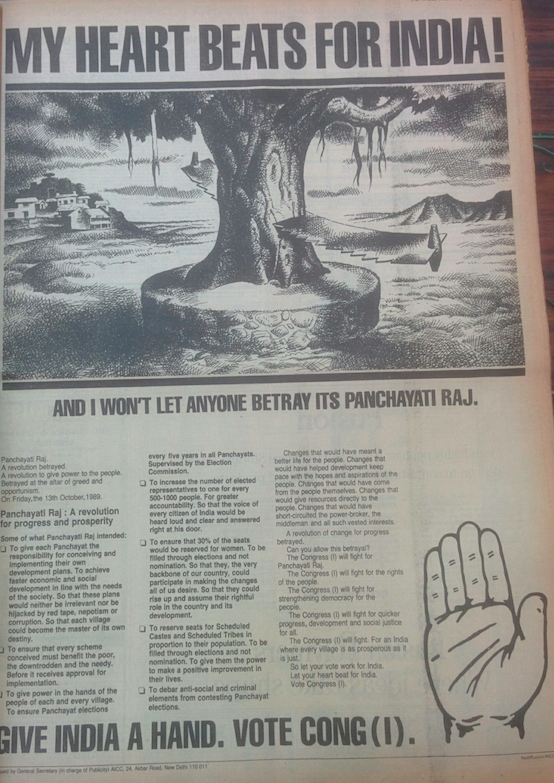 ---
And in the final ad on the election day, Cong splurges money on a full two page add. Read it. Not a single mention of the word "minorities". @INCIndia could not afford it in the light of the Shilanyas program and the growing sentiment of Hindus.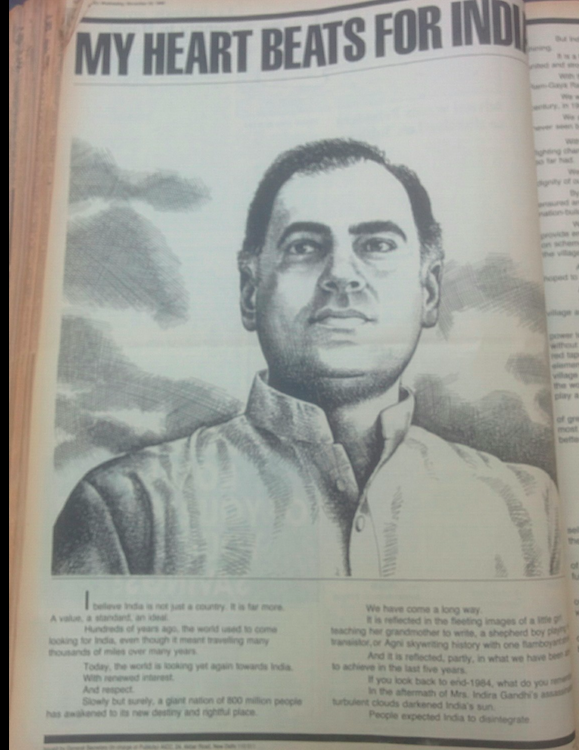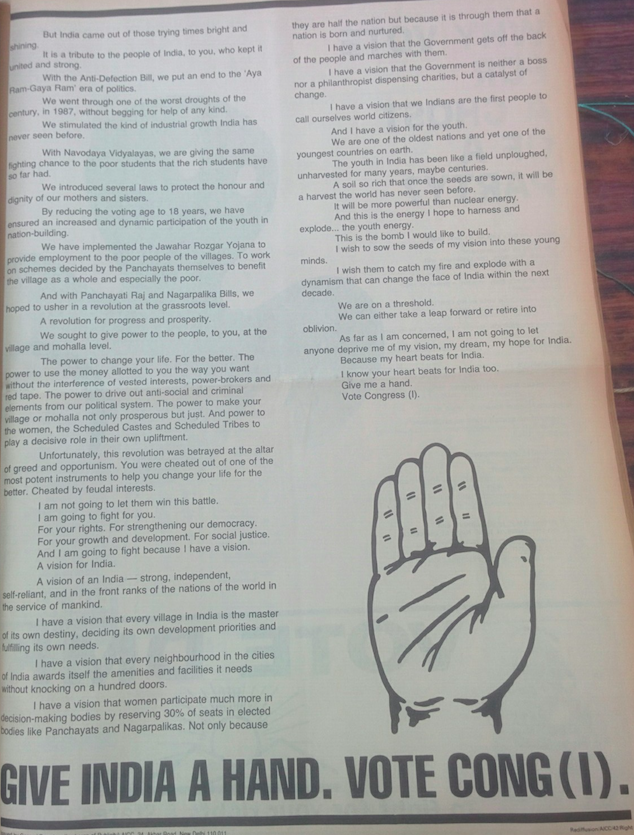 ---
One of the most ironical ad, when the 1984 riots are still fresh in the minds, no progress made in arresting the perpetuators... "I won't let anyone turn its streets into streets of fire" Totally shameless.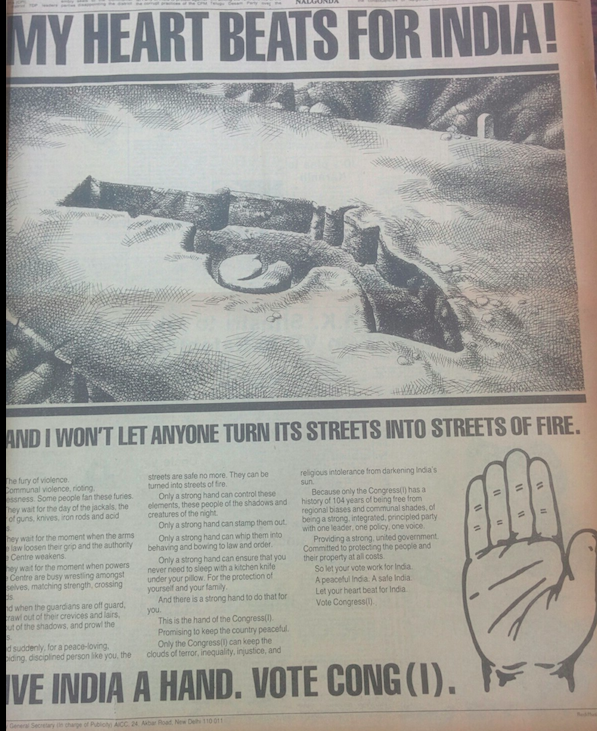 ---
And Janata Dal's reaction? Not much in print. Except for an ad or two like this...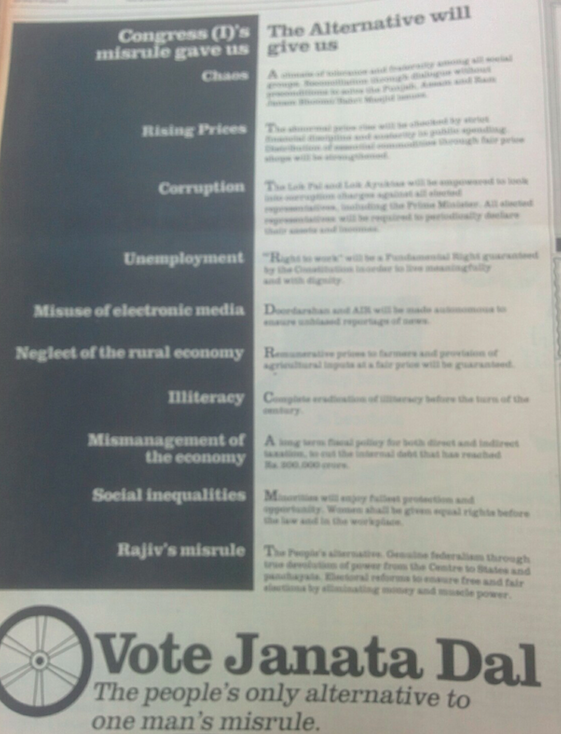 ---
So finally what happened in Amethi, where Rajmohan Gandhi stood against Rajiv? There was ballot box snatching, voter impersonation, violence. Little wonder Cong and its pals want the paper ballot to return to those days.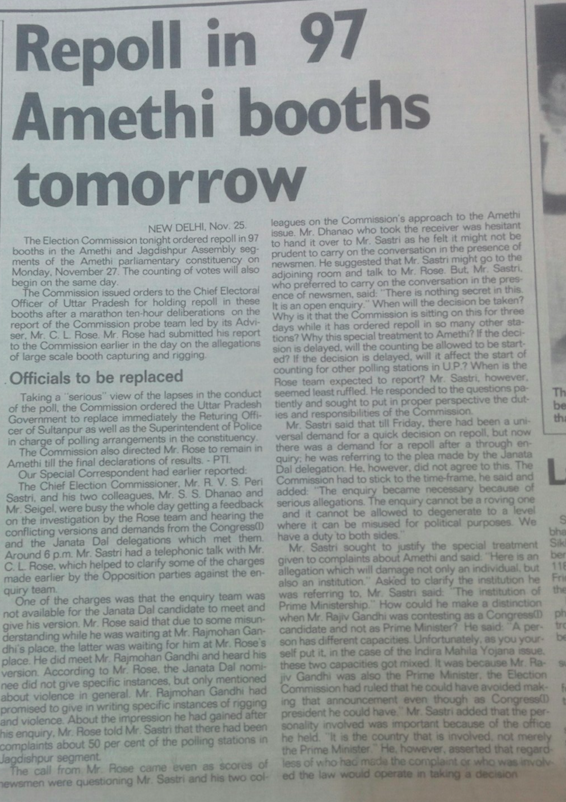 ---