Today in History: Asaba Massacre took place. On this day, October 7, 1967, one of the heinous massacres took place in Asaba, present-day Delta state. The Nigerian troops invaded Asaba and shot dead over 950 people. What was their crime? It's a thread... RT to educate someone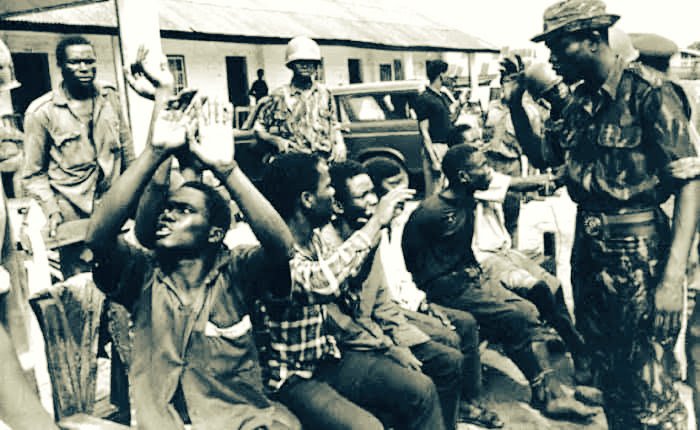 ---
Today marks 53 years the people of Asaba in Delta State have been living in deep sorrow and anguish. They have been swimming in the ocean of misery and trauma as a result of the Nigeria-Biafra civil war. It was alleged that the massacre was carried out to teach the Asaba people
---
a bitter lesson "for their sympathy for the Biafrans". Barely three months into the war over the declaration of the Republic of Biafra, the federal troops descended on the small town on the west bank of the River Niger. Like possessed beings, the federal troops went on rampage,
---
ransacking and vandalising homes, killing every "man" sighted and destroying homes, among other things. The killings started on 5th October and took another horrendous dimension on October 7, 1967. That day, hundreds of men, women and children came out chanting "One Nigeria"...
---
in support and solidarity with the federal troops. Many of them came out in their best local white attire (akwa ọcha). But the military had other plans. They took the innocent citizens to Ogbe-Osowa area of the town. There, they killed hundreds of men in cold blood. And Asaba
---
laid prostate, in ruins. A town without men. The order for the killing was reportedly given by Major General Ibrahim Taiwo. Ironically, Taiwo was beheaded during a coup in 1976, reinforcing the saying that those that kill by the gun will surely die by the gun.
---
Another version of witness account credited to Dr. Uchenna C. Gwam, who escaped death by whiskers said: "The Nigerian troops that came into Asaba came with the aim of eliminating every Asaba Man as they thought they were fathers, brothers & uncles of Chukwuma Kaduna Nzeogwu, the
---
leader of the first Nigerian coup in 1966 that killed Sarduana of Sokoto, Sir Ahmadu Bello. CKN, hailed from Okpanam, five KMs drive from Asaba. I would rather say those soldiers that came to Asaba were on a revenge mission & not after the Biafrans. He further said that when the
---
federal troops opened fire on the defenceless Asaba residents, Ibrahim Taiwo was excitedly shouting: "Kill them all! They are all unbelievers." The mass murder was not a one-off thing. "At Ogbe-Osowa, the mayhem was on Oct.8; at John Halt, it was Oct. 9, 1967; at St. Patrick's
---
College, Asaba, it was in 1968 and at Umujia, it was also in 1968. Little did Asaba people know that the attempt to embrace the federal troops was a game of death. Every village prepared & went to Ogbeosowa Square, thinking that they were coming to receive their friends but the
---
reverse was the case. When they got there, they separated the men from the women. The next thing they opened fire. The whole people there were mowed down. The women buried those men killed. The women went through the bodies looking for their own people because everybody wore...
---
akwa ọcha. So, if you recognised anyone that you know, you take the body and bury. Vultures were feasting on the dead, puncturing their stomachs. The inhumane Soldiers took advantage of the situation and raped so many women, both young and old, they "married" so many others.
---
A cenotaph had been erected in memory of the fallen, with their names inscribed on the wall. We remember today the victims of the despicable massacre of unarmed Igbo civilians supervised by Gen. Murtala Mohammed, carried out by Maj. Taiwo & his boys. God rest the dead. The END
---